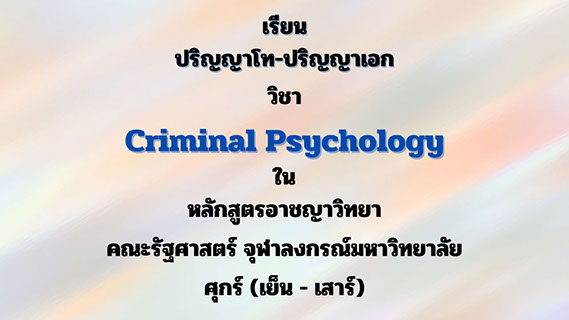 Ms. Tana Wiboonpanuvej
Master of Arts in Political Science,
University of Essex, Colchester, United Kingdom
Studying Criminology and Criminal Justice at Chulalongkorn University can broaden the understanding of myself, other people and, most importantly, the criminals. My perspective on things around me tends to be different from what I perceived before undertaking the study since the criminologists must be able to understand the criminals' states of mind and their personal background in order to analyze the reasons behind their criminal behaviors. Besides, as this course is interdisciplinary, I have learned so many theories related to both social sciences and pure science,for instance,Hirschi's Social Bond,and Fraud's psychological theory about Id, Ego and Superego.
Hopefully, after finishing the course, I will be able to help our society by applying the knowledge I have gained to prevent the crimes, to strengthen our social security and to inject the immune system to Thai people and community. This will be, in my opinion,the first step leading to make everyone live together in harmony.